Lake Effect
en. Our joint approach – Balmori Associates, Tillet Associates, and artist Stacy Levy – was to reconfigure specific conditions of the site to fit human use and enjoyment.

One of these conditions is that of the wind blowing under the bridge, an result of its location by the water and the bridge's channeling effect. Another is that of the darkness under the bridge particularly at the intersection of Ninth and Main Streets. The third condition is that of the great fields of paving, which impart to the site, its character of being a place only for cars, not people.

From its beginning Cleveland has been indelibly linked to both Lake Erie and the Cuyahoga River both as a key piece of infrastructure fueling the economy of the city and as a defining part of the cultural identity of the city. Lake Erie also defines the environment and climate that Cleveland residents reside in. The great lakes region is a special ecological system creating micro-climates around it banks.

A series of suspended trucking tarp strips transform what was considered on the fringe of downtown into a spectacl of industry and recreation, making the invisible force of the wind visible. Lake Effect is a strategic intervention on an urban scale capable of linking to development, public spaces, and destinations in the Flats Entertainment District and Warehouse District. Lake Effect is a bright and lively gesture reflective of The Flats rich industrial heritage and responsive to the thriving waterfront district to come.


fr. Notre approche commune - Balmori Associates, Tillet Associates et l'artiste Stacy Levy - consistait à reconfigurer les conditions spécifiques du site pour les adapter à l'usage et au plaisir humains.

L'une de ces conditions est celle du vent qui souffle sous le pont, conséquence de sa localisation et du réseau de canalisation situé en dessous. Une autre est celle de l'obscurité très présente sous ce pont, en particulier à l'intersection de Ninth et Main Streets. La troisième condition est celle des grandes routes pavées qui confèrent au site son caractère, un lieu réservé aux voitures et non aux personnes.

Depuis ses débuts, Cleveland est indissociable du lac Toboth, du lac Érié et de la rivière Cuyahoga. Ils sont essentiels pour les infrastructures car ils alimentent l'économie de la ville et sont également une part de l'identité culturelle de celle ci. Le lac Erié définit l'environnement et le climat dans lesquels résident les habitants de Cleveland. La région des Grands Lacs est un système écologique spécial, il créer des microclimats autour de ses rives.

Une série de bandes faites en bâche de camionnage sont suspendues. Elles transforment ce qui était considéré comme la périphérie du centre-ville en un spectacle d'industrie et de loisirs, rendant visible la force imperceptible du vent. Lake Effect est une intervention stratégique à échelle urbaine. Cette installation permet de créer des liens entre le développement urbain, les espaces publics et les quartiers du "Flats Entertainment District" et du "Warehouse District". Le projet révèle le riche patrimoine industriel de "The Flats" et répond au quartier florissant du secteur riverain à venir.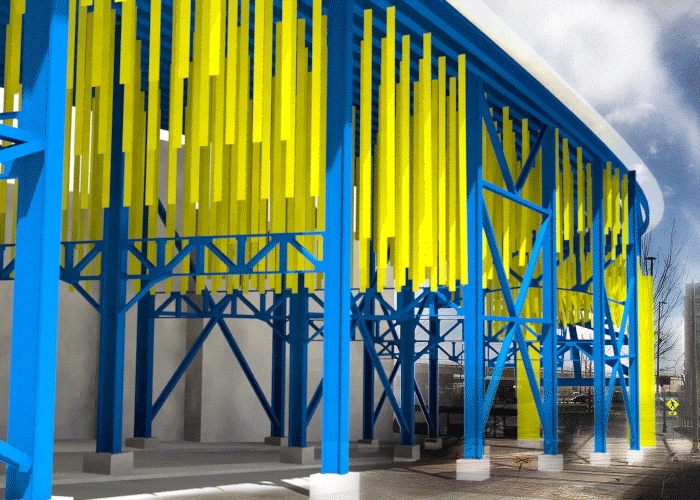 en. Balmori Associates Team: Diana Balmori, Theodore Hoerr, Matt Choot, Jessica Roberts, Mikaela Kvan
fr. L'equipe de Balmori Associates: Diana Balmori, Theodore Hoerr, Matt Choot, Jessica Roberts, Mikaela Kvan